Services Provided at Over 100 Mining Sites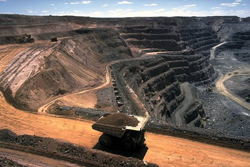 Habitat Management (HMI) prides itself as a mining services organization. All of our key staff have previous experience working directly for mining companies. We have provided environmental consulting services at over 100 mine sites in Wyoming, Colorado, New Mexico, Montana, Utah, Nevada, Texas, Idaho, Kentucky, Kansas, and Missouri. We have supported a wide variety of mining operations, from coal to molybdenum, from sand and gravel to gold and silver operations, and we have developed extensive knowledge regarding the specific environmental issues and regulations pertaining to these varied operations.
Permitting
Habitat Management can provide lease support, including the preparation of NEPA (National Environmental Protection Agency) documents and other permitting requirements. We have extensive experience creating SWPP plans for mines to manage often complicated watershed and erosion problems. Our veteran staff have worked in mines in several states and are familiar with drafting mine and reclamation plans that help our clients achieve the operational and bond release goals.
Baseline Inventories
Our team of field biologists, botanist and soil scientist provide our clients with detailed and accurate baseline surveys for mine to make informed decisions about their natural resource management.
Watershed Management
Habitat Management specializes in creating and maintaining Storm Water Management Plans(SWPPs) for a variety of projects in diverse and often complicate watershed areas. We provides site stabilization, erosion control, and sediment containment measures, commonly referred to as Best Management Practices (BMP's) that help our clients manage erosion and potential pollution or sediment run-off.
Bond Release
Habitat Management Inc. has successfully prepared numerous bond release verifications and bond release requests for Powder River Basin coal mines.  All of our senior professionals have previous experience working directly for coal mining companies.  We have an excellent working relationship with LQD staff, we are familiar with the various mine site staff, structure, and safety requirements.
Partial Incremental Bond Release
LQD Guideline No. 22, Verification and Compliance Standards for Phase 1 Partial Incremental Bond Release guides this process.
In summary, LQD requires a Rough Backfill Verification (e.g. Area Bond Release) and four additional stand-alone Phase 1 Partial Incremental verifications prior to approving a Phase 1 Partial Incremental Bond Release request. These verifications include:
Rough Backfill Verification (Area Bond Release)
Stream Channel Reconstruction Verification
Backfill Quality Verification
Soil Depth Verification
Drainage System Functionality Verification
Partial Incremental Bond Release
LQD has published Guideline No. 23 Verification and Compliance Standards for Phase 2 Bond Release on Coal Mines to guide the Phase 2 Bond Release process. LQD Coal R&R Chapter 15, Section 5.(a)(ii) allows for release of greater than sixty percent (60%) of the Incremental Bond under certain reclamation conditions. This guideline specifies three Phase 2 verifications that must be approved by LQD before a request for Phase 2 bond release may be submitted. These include:
Vegetation Establishment
Sediment Control Release
Permanent Impoundments
Full Incremental Bond Release
Coal R&R Chapter 15, Section 1.(a) lists the specific information which must be present to allow the LQD Administrator to determine the request is complete. The following nine verifications are also required for final bond release:
Post-mining Land Use
Wildlife Habitat
Revegetation
Shrub Establishment
Tree Replacement
Post-mining Groundwater
Post-mining Surface Water
Post-mining Roads
Temporary Structures