Cost Effective Vegetation Management Solutions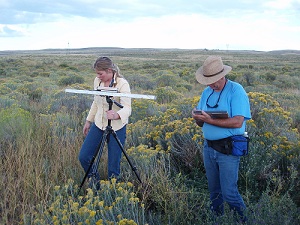 Habitat Management provides a variety of vegetation services to meet the needs of our clients. Our services include baseline studies and inventories, species of special concern surveys, revegetation planning, seed mix development, planting and seeding, reclamation planning and management, noxious weed management, and others. Our qualified scientists can help you determine the best approach for your project.
Baselines & Inventories
Whether your need is for a vegetation community map, plant species inventory, survey for species of special concern (threatened, endangered, or sensitive species), or other vegetation surveys, our experienced botanists are familiar with vegetation communities throughout the western United States. We conduct ecological site classification based on natural vegetation and site potential.
Habitat Management's approach combines the evaluation of existing data, GIS and remote sensing, and on-site evaluations to provide an accurate picture of the vegetation at your site. Community maps can be supported with baseline data needed to provide estimates of vegetative cover, production, shrub density, or other parameters as needed.
Habitat Management's approach combines the evaluation of existing data, GIS and remote sensing, and on-site evaluations to provide an accurate picture of the vegetation at your site. Community maps can be supported with baseline data needed to provide estimates of vegetative cover, production, shrub density, or other parameters as needed.
Habitat Management can provide a floristic inventory of your project site based on your project needs. From a simple list of dominant species to a complete floristic inventory, our botanists can provide you the information you need to effectively manage your site.
Revegetation
Habitat Management assists with reclamation or revegetation planning and implementation on a wide variety or sites from natural areas in need of a boost to drastically disturbed lands. Our award-winning reclamation work utilizes a variety of techniques to foster the germination and establishment of biologically diverse vegetation stands in often difficult growing situations. Our services include Steep Slope/High Altitude Revegetation, Wetland Planting and:
 Habitat Management field crews can seed your site or install native nursery stock to supplement your reclamation efforts. We work with the best growers and seed suppliers in the region to get the plant materials that are right for your project. Our specialties include wetland plantings, steep slope reclamation, and difficult or atypical sites.
Developing site-specific revegetation plans is one of Habitat Management's specialties. Based on site-specific conditions, we can develop a reclamation plan to help you to meet or exceed your mitigation, rehabilitation, or reclamation goals.
By evaluating site conditions including soils, precipitation, and land use and observing local plant species, Habitat Management designs custom seed mixtures to establish self-regenerating plant communities capable of supporting desired post-disturbance land uses.
Vegetation Management
Habitat Management specializes in creating and implementing vegetation management plans that help our clients reach their short- and long-term goals. Whether you are a mine seeking bond release, a county or city trying to manage roadside vegetation, or a private landowner trying to maintain the value of his/her property, we can create a custom management plan and provide the services need to see the successful completion of the project.
Noxious weeds are a concern for landowners due to their effect on land value and natural resource management plans. From identifying and treating noxious weeds to designing custom seed mixtures, Habitat Management's vegetation specialists (including Certified Commercial Pesticide Applicators) develop and execute effective vegetation management and targeted weed control plans. We specialize in Integrated Pest Management (IPM) methods including prevention, mechanical, chemical, and cultural controls. During the planning phase, we conduct surveys to inventory noxious and invasive weed species, characterize levels of infestation, and identify areas of concern to create an effective weed control strategy. We develop weed management plans that prioritize the needs and goals of our clients taking into consideration applicable laws and regulations regarding pesticide safety, equipment safety and environmental concerns. We use backpack and ATV equipment for spot and broadcast applications at rangeland, rights of way and aquatic sites. We also provide record-keeping and periodic reporting, GPS and GIS mapping, and control effectiveness evaluations.
Habitat Management develops and implements short and long term forest management plans that meet our clients' diverse objectives. From prescribed fire plans, to short-duration, high-intensity livestock grazing systems on reclaimed mine lands, our land-use plans increase soil microbial activity, vegetation cover and forage production. We also perform forest and rangeland improvement work. We have developed and implemented successful short-duration, high-intensity livestock grazing systems on mine lands. These systems increase soil microbial activity, vegetation cover, and forage production.
Based on our client's needs and the initial assessment, Habitat Management can provide strategies for vegetation enhancement. Our reclamation and rehabilitation plans include custom seeding, transplanting, soil fertilizing and conditioning, mulching (straw, native hay or hydro-mulching), erosion control and water harvesting to improve the vegetation cover of desired species. Our work emphasizes native species and compliments erosion control and sedimentation control requirements for land development.
Habitat Management has experience creating Forest Management Plans. Our plans are customized to meet the short- and long-term goals of the landowner. Depending on the goals for the property, all or some of the following may be included in an initial inventory of the forest:  species composition, origin of stands, age-class distribution and stocking levels, acres in each timber type, product volumes, and soil types and quality estimations. Plans may include evaluation of capital improvements, timber income enhancement, wildlife management, reforestation options, and intensive forest management options.  An integral part of any forest management plan is the ongoing maintenance required to protect the integrity of the property and are offered as part of our comprehensive forest management services.
Vegetation Monitoring
Habitat Management designs monitoring plans and performs monitoring to ensure revegetation success. With proper planning, vegetation monitoring can demonstrate compliance with permit or regulatory requirements, or achievement of revegetation goals. Monitoring data can be used to inform future vegetation management activities and adaptive management strategies.  Our staff has experience with vegetation monitoring on mine and quarry facilities, oil and gas pads, RCRA waste impacted sites, Corps of Engineers compensatory wetlands, capped disposal areas, National Grasslands, and other natural and revegetated areas. We support vegetation performance and liability release efforts through initial permitting, seeding and planting, final monitoring and submittal of liability and bond release applications.
Contact us today to develop a vegetation management solution tailored to your needs.