Empowering Your Projects. Surveys. Maps. Data.
Habitat Management, Inc. (HMI) combines GIS, Remote Sensing and GPS technologies to provide cost effective and custom solutions to our clients. We have practical experience in the design and execution of ecological field studies for oil, gas and mining companies. HMI brings you 35 years of experience creating, converting, analyzing and mapping GIS data.  [
Download GIS Services Brochure]
Field Data Collection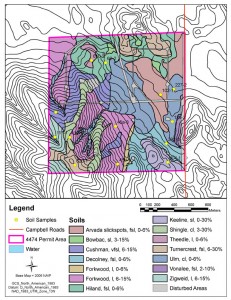 HMI delivers comprehensive solutions that begin with field data collection and end with a fully functioning geodatabase, empowering you to effectively analyze your data to support informed business decisions. We use engineering or environmental grade Trimble GPS equipment in conjunction with mobile field mapping and data collection software to gather and manage your data. At HMI, we are experts at collecting field data and managing the synchronization of cached data on mobile devices with databases and map services running on an enterprise server. After the data is synchronized in a central database, we use software to compare and analyze the data based on your project specifications.
Imagery Integration
The use of existing imagery data is often a cost effective means of providing data for your project. HMI is also equipped to provide field verification if required. Our specialists have experience with ERDAS and ENVI software to add valuable base data to your GIS. The use of imagery allows us to extract data about natural resources, disturbed areas, and infrastructure. This is a cost effective means of increasing client database accuracy.
Database Services
HMI designs and develops well-organized geodatabases. Our experts have experience with Oracle, SQL Server, and PostgreSQL. HMI's services enable you to extract critical information from your GIS to facilitate informed decision making when you need it most.