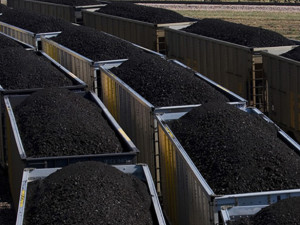 Habitat Management, Inc. (HMI) provides environmental services to the world's largest surface coal mine, the Black Thunder Mine owned by Arch Coal, Inc. Since 2007, HMI has consistently provided professional natural resource services at Black Thunder Mine including environmental baseline studies, vegetation monitoring and inventories, assisting with Environmental Impact Statements, and Federal permitting and regulatory compliance. This year, HMI will manage the vegetation survey portion of the Biological Assessment and Biological Evaluation on Black Thunder Mine lands as required by the US Forest Service.
Natural resource reclamation and restoration is a carefully planned component of the total mining process at Black Thunder. The mine complies with Federal land, air, and water standards by managing all natural resources to ensure the land is as, or more, productive than it was prior to disturbance. Plant and wildlife communities are thriving on the mine's reclaimed lands due to Black Thunder Mine's commitment to environmental stewardship.
The vegetation survey at Black Thunder Mine consists of searching specific geographic areas to determine the presence of particular species and evaluating the habitat suitability for those species. HMI is experienced in surveying and monitoring threatened, endangered and sensitive (TES) plants. We utilize the latest GIS technology and ArcGIS software to efficiently collect, organize and analyze data. This complete data management approach enables our clients to make informed environmental management decisions.
Black Thunder Mine is located in the Powder River Basin in Wyoming and has been producing coal since 1977. Black Thunder Mine is the largest surface coal mine in the world and produces 10% of America's coal supply each year. In 2004, Black Thunder Mine became first mine in the world to reach 1 billion tons of coal shipments. In 2007, the mine produced more coal than 23 other coal producing states combined. Four tons of coal are produced every second of every hour, 365 days a year. Each day, 25 miles of coal trains are loaded and shipped out of Black Thunder. The mine is a major economic force in the region providing employment to over 1,600 people. Two of Black Thunder's draglines are among the largest earth moving machines in the world, they can dig the equivalent of an Olympic sized swimming pool in less than 25 minutes. Each dragline is valued at $100 million each.
Safety is a top priority at the mine. In 2008, the mine's overall safety record was 3 times better than the industry average. Habitat Management shares the same focus on safety as Arch Coal and Black Thunder Mine. We proactively manage employee health and safety standards that meet or exceed industry requirements. Habitat Management is proud to be an integral part of the impressive and nationally significant mining operation at Black Thunder Mine.