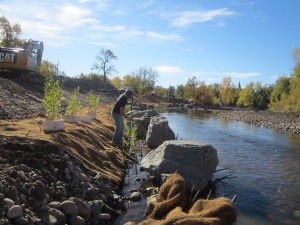 Located in LaPorte, CO, the popular Lions Park offers 20 acres of hiking and biking trails, picnic areas, and fishing along the bank of the Cache LaPoudre River. Due to changes in hydrological patterns, erosion of the river's bank was nearing the public trail, threatening to wash it away, while in-stream sediment build-up was affecting fish habitat. Larimer County decided something needed to be done—and fast.
In August, the Lions Park Poudre River Restoration and Bioengineered Bank Stabilization Project began.  The design and construction team included Habitat Management, Habitat Construction, Ecosystem Services, Larimer County, WaterWise, Colorado Parks and Wildlife, the City of Greeley Water and Sewer Department, J3 Engineering Consultants, and King Surveyors. During the first phase, large cottonwood logs, boulders, geotextile fabric, brush trenches, and willow stakes were used to stabilize the eroded banks, while in-stream structures created pools for trout through the use of boulders. The banks and upland areas were then re-vegetated with native seed, tree, and shrub plantings in order to provide additional bank stability, as well as shade and habitat for the trout. An underground sprinkler system was included to help the vegetation establish quickly. In their final step, the team added stairs to improve public access to fishing areas.
Despite a number of challenges, including flooding and variable weather, the team was able to overcome these minor setbacks and complete the project before the onset of winter.  Habitat Management is conducting ongoing monitoring to ensure vegetation establishment. Months after its completion, the River Restoration and Bank Stabilization Project has proven to be a success. All in all, it has helped not only to maintain the beauty and vitality of Lions Park, but also make it a place for everyone to enjoy.