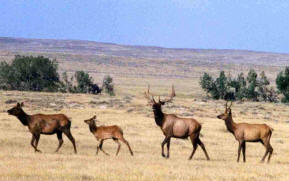 Formed in 1999, the Thunder Basin Grassland Prairie Ecosystem Association (TBGPEA) was created to address concerns about land management practices in the region, including ranching, coal, coal-bed methane, oil, and gas.  Of particular concern is the effect of these practices on wildlife species and their habitat.  In order to provide scientific and statistical information on the effects of management practices, Habitat Management was hired to conduct annual vegetation monitoring for TBGPEA.  The monitoring for 2012 included re-visiting 204 existing transects and establishing 104 new transects.  Along each transect, measurements were taken using point-intercept, line-intercept, and Daubenmire frame methods. Gathering data in this way allowed HMI to provide the client with a detailed look at the vegetation and shrub cover at an area.  This information will be used to monitor trends over time, particularly in areas treated for cheatgrass (Bromus tectorum), and prickly pear cactus (Opuntia polycantha). Additionally, plant species in a macroplot around each transect were recorded in order to provide a list of species in the area, especially rare or uncommon species that did not occur along the transect line.
In order to aid in data gathering while in the field, HMI developed data forms for use on a field laptop computer.  This form was designed to allow entry of field data directly at the site, rather than gathering in the field on paper forms and entering into the computer database at a later date.  This reduces data entry time and transcription errors.
HMI also used summer field technicians on this project.  These summer technicians are often college students studying range management or a similar field.  By pairing a summer technician with a more experienced field scientist, HMI is able to reduce the cost to the client while simultaneously providing the student with hands-on experience in an environmental field.